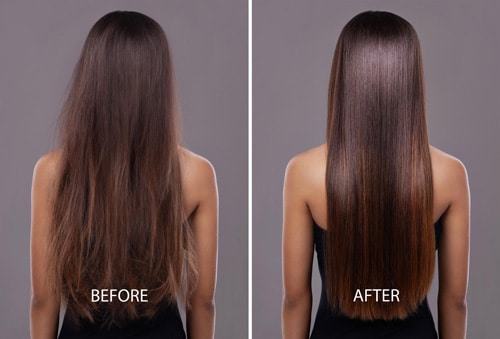 Hair restoration – is the process of improving the condition of hair and restoring its health after damage, drying or chemical treatment. Hair restoration can help restore its well-groomed appearance, strength and shine.
Causes of hair damage:
Chemical treatments: permanent coloring, perms, straightening and other chemical treatments can damage the structure of the hair, making it weak and brittle.
Heat Exposure: using flat irons, blow dryers and other heat styling tools without protection can cause hair damage.
Mechanical effects: styling in tight hairstyles or using harsh accessories can also damage the hair.
Lack of care: Improper care, the use of harsh products and frequent hair washing of harsh products can damage the hair.
Hair restoration methods:
The basis of hair restoration is properly selected care, as well as the ingredients of which it consists of.
Nutritional Supplements: In some cases, a trichologist may recommend nutritional supplements to help strengthen the hair structure from within.
Professional treatments: Hair restoration can be accelerated with professional treatments such as keratin straightening, lamination and restoration.
BEVISIBLE REPAIR SYSTEM is a professional hair reconstruction system. Its original formula acts deeply into hair fibre, restoring its original pattern and sealing the results at the end.
Only BEVISIBLE REPAIR SYSTEM reconstruction responds to the needs, giving back to hair fibre its original substances and re-sealing the cuticles. In this way, the hair can maintain or recover its beauty features-strength, elasticity, brightness and smoothness.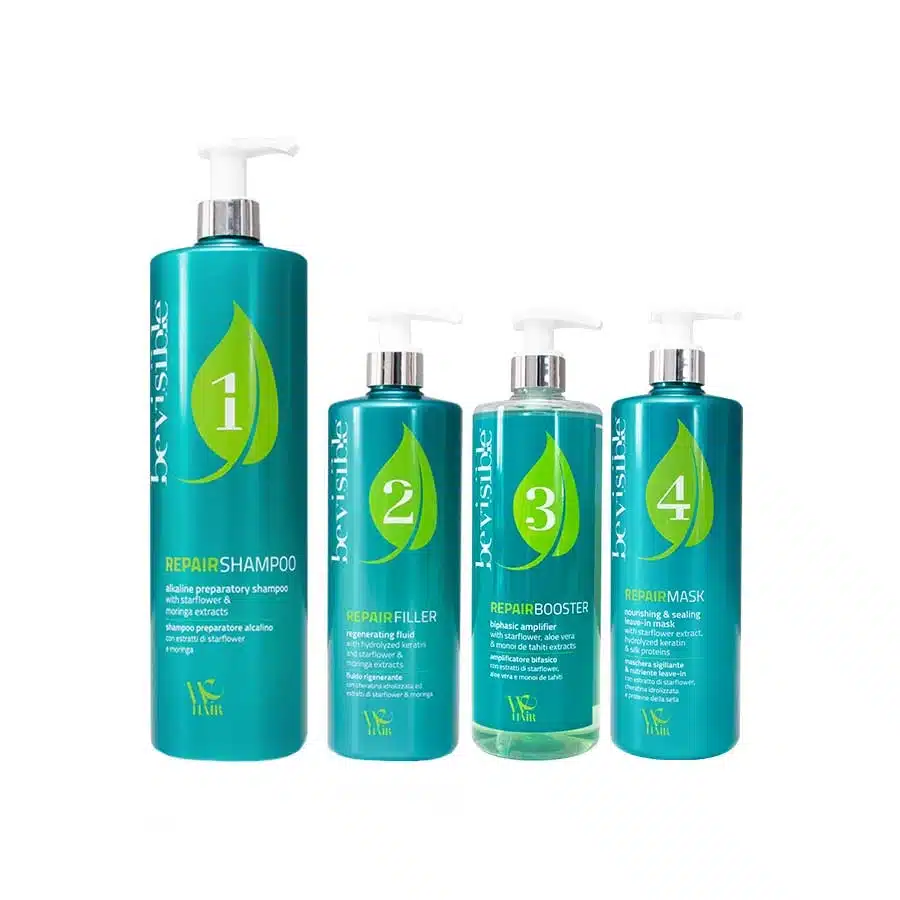 Its formula is featured by the presence of Borage Oil (Starflower).
This plant with star-shaped flowers has been used for centuries for its healing properties. In addition to being rich in macro-nutrients such as proteins, carbohydrates, fibre and fats, Vitamins A and C, and minerals. Borage Oil is the most important natural source of GLA(gamma-linoleic acid), which has a proven nourishing capability and is therefore reconstructive for hair fibre.
Other active ingredients enriching the system are:
Moringa extract is a real concentrate of vitamins, which provides an antioxidant effect on individuals' cells, slowing down their natural ageing.
Also contain Sweet Almond and Aloe Vera extracts, Argan Oil, Monoi de Tahiti, Hydrolysed Keratin and Silk protein.
It is important to understand that hair restoration is a process that takes time and patience. The results can be individual, depending on the degree of damage to the hair and the characteristics of each organism. If your hair is severely damaged or you have serious hair problems, consult a trichologist who can determine the best recovery and care plan for your hair.
How often do I have to use reconstruction treatment?
It is advisable to carry out the hair reconstruction treatment once or twice a week, for a month with a professional. It is also important to use home care products that will help your hair regrow quickly. You should ask your stylist for a home care line.
How does hair reconstruction change the structure of the hair?
Hair restoration reconstruction does not change the structure of the hair. This treatment is aimed at improving the quality of the hair from the inside, making the hair silky and elastic, less fluffy.
Where can I buy hair restoration products?
BEVISIBLE REPAIR SYSTEM you can get by contacting us and we will help you to realize your dream.